Senseless is one of our recent Illustrative pieces that has really hit home for people. Here's a bit of an evolution of the print.
Concept
I find that it's really easy for me to zone in to my phone and enter that unreality in there. Lots of things to keep you occupied – social media, news, email, blog posts… back to social media again… it's just a little bit too easy to enter that phone zone and not really exist in the real world any more.
For me, I know that one day I'm going to turn around and the kids will be all grown up. Sometimes I just want to press pause and keep them just where they are so I can experience it for a little longer. So I'm even more dumbfounded with myself when I realise that I've missed entire conversations and entire experiences because I was too busy scrolling through a news feed. I wanted to make an image that captured that – the world passing by while someone was ensorcelled in the little soul box.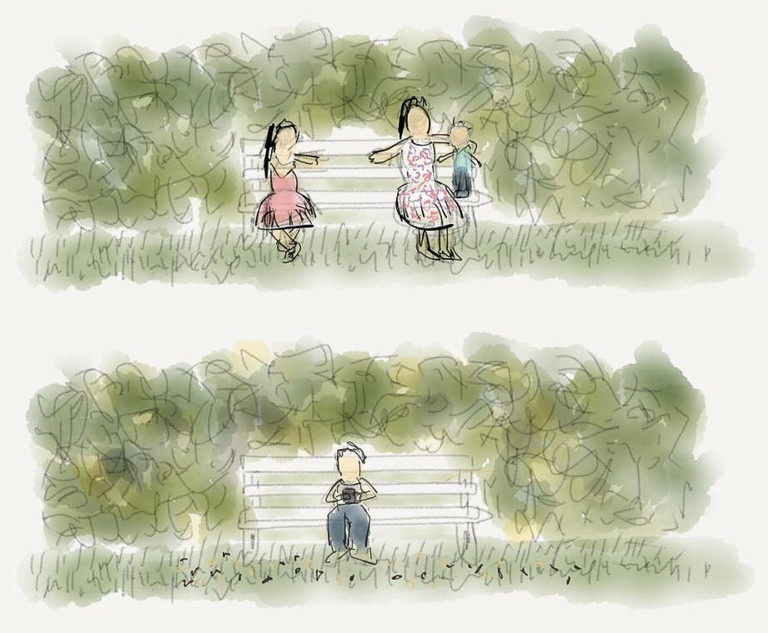 The original concept was a two-hander, two images that were to represent the same place and time, with someone out of phase from the rest of their family… on their phone, missing out on a beautiful day in the park. One of those days you remember for a long time. In that isolated person's version, everything was a little lifeless, with dead leaves on the ground and other clues to show… wrongness.
That concept bounced around for a year or so without quite moving forward. After a while, it morphed in to another version showing the passing of time, and the person being oblivious to their family moving on. After hunting for a location, we realised one of the benches we like to use for family sessions at the Mt Cootha Botanic Gardens would be pretty perfect.
Prototypes like this are really useful to test out ideas before the final shoot. Things like… Where should the guy be sitting? In the middle, or just off to one side? What kind of clothes should he be wearing to best convey that he's wet later on? What should the kids be wearing? Is that red picnic blanket picture perfect or too distracting? While it's a sketch, the cost to change things is really low; you're not bothering anyone or wasting their time.
The shoot
With location and wardrobe pretty much sorted, casting was the final piece ahead of shooting. Some good friends of ours, the excellent and very photogenic Stefan and Laurene Cooper-Fox, have a little family that was just right for this. Even better, Stefan and Laurene are photography buddies of ours. Stefan and I have been performing together for decades, and when photography started to bite, he was the one that taught me studio lighting and how to work with clients. We all lean on each other for equipment and for help with shoots, and Stefan and I have both second-shot for the other doing weddings. (Stefan and Laurene run CF Photography, and we're proud to be associated with them.)
Our daughter Tara was my most excellent assistant. When we left the house to head to the shoot, the plan was still three panels. In the ten minutes on the way there, we talked about how it was sad and poignant but didn't quite have the sting in the tail that it needed to really hit home. So we came up with the idea of trying a fourth frame, where the man looks up and over, realising that they've gone, wondering where they went.
Shoot-wise this was very simple. One speedlite off the right edge of the frame to be the setting sun; a second off the left edge for some fill. A third when needed to replicate the light from the phone. Not a lot of photoshop trickery either; a little composite work to get everyone together the right way. Very handy to have a completely static Stefan in the middle.

Stefan was an absolute champion in this shoot. He sat dead still for the better part of an hour. Have you ever sat dead still, hunched forward, not able to fidget at all? It's pretty hard! Sooooooo let's make it harder and soak him to the skin! Good times!! I think he was relieved once the session was over. Here's Tara with the phone-light-speedlite, while Laurene pours water on Stefan's head.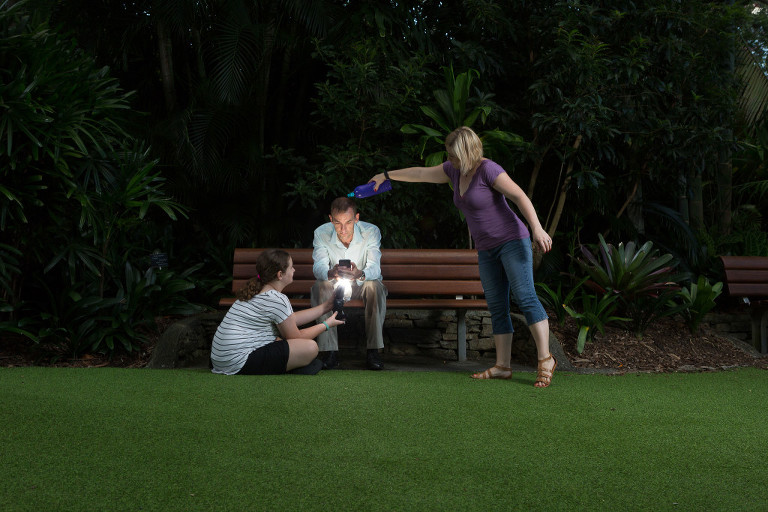 Putting it together
As it turned out, that fourth frame was the absolute perfect way to finish off the sequence. The edit for this came together very quickly, a couple of hours to get 99% of the way there, and then letting it sit and stew for a little while. The biggest change as it evolved was moving most of the family out of frame for that second panel.
I had a bit of an epiphany with this print during the editing process. Photographers lucky enough to own an Eizo monitor always rave about them. This was the first print I edited using an Eizo. It's a really dark image, and I had to be super careful to know how it was going to print – were the details in the dark areas going to carry through? Or not? Or too much? Using the Eizo shortened my edit-print-refine workflow significantly; I got a much better representation of what the printed image would look like while I was editing. Now I'm one of those lucky photographers with an Eizo on my desk.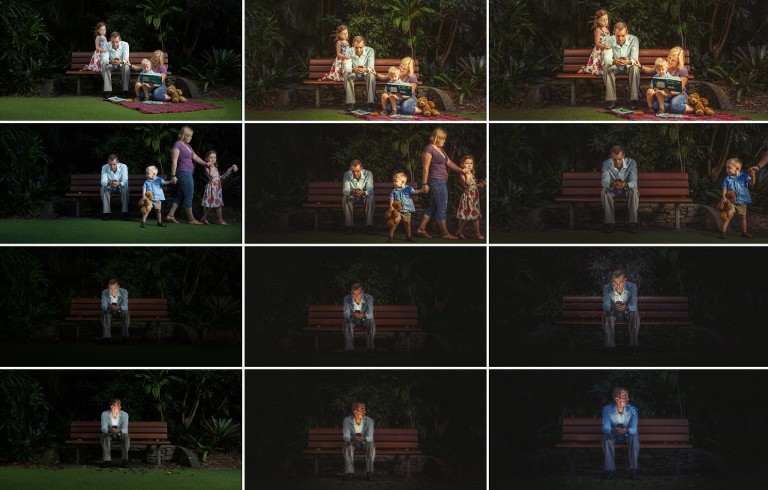 Awards
There was one little gamble entering this as an awards print. Each of the four frames had an individual window in the matt, with the last one offset by a little bit more than the others, to imply the passage of time. To date, I don't think anyone has remarked on it at all. So either people dismiss it as an error, or it's so obvious that it isn't worth talking about… or no one has noticed.

You may have figured out that I prototype just about everything… this is the mockup of the mat layout.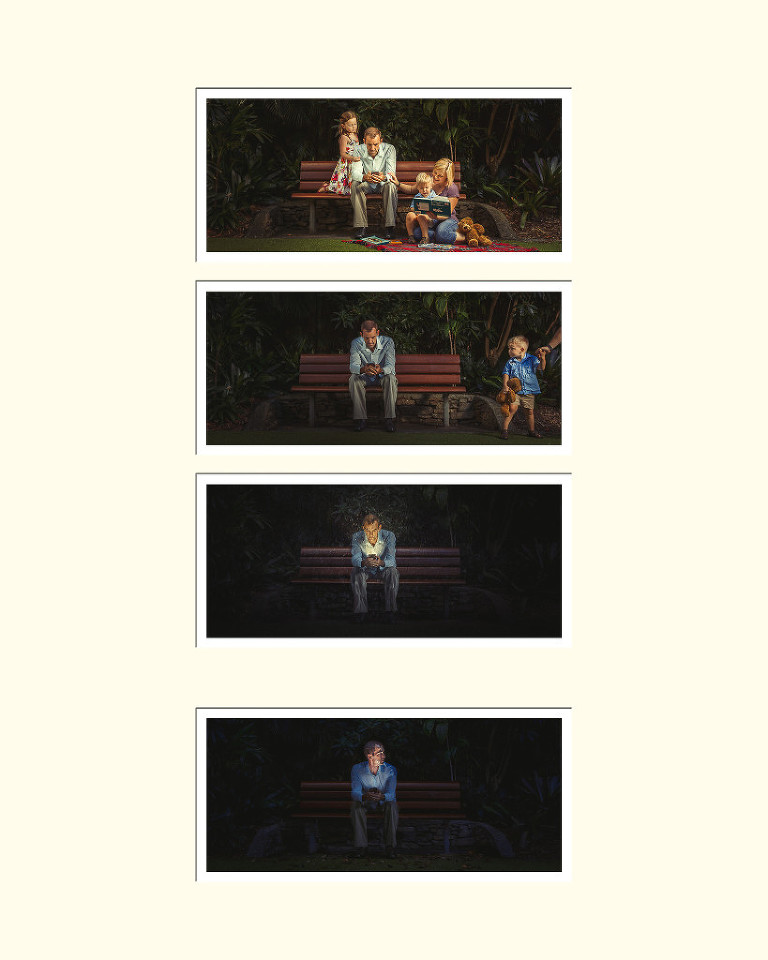 As far as awards performance goes, you can't really ask for more than this print has delivered.
Queensland Professional Photography Awards: I was floored to see this print get up in to the Gold range at the QPPAs, after a particularly excellent challenge from Mark Rosetto, one of the judges. Mark identified with the subject, and it affected him pretty deeply. If you want to hear his impassioned challenge, you can watch the livestream (fast forward to around 5:40). He kept the print up on the panel for 13 minutes, which is massive. As well as the gold award, this was part of the portfolio that earned the Queensland 2017 Illustrative Photographer of the Year.
Australian Professional Photography Awards: After actioning feedback from the judges in Queensland, this print scored a very respectable Silver with Distinction at the APPAs… and again was part of a portfolio earning the Australian 2017 Illustrative Photographer of the Year.
Wedding and Portrait Photographers International: When it comes to the big titles, WPPI works on prints rather than portfolios. In the 2017 2nd half digital competition, this print ended up in First Place in the Illustrative category. (As I write this, a physical print is tucked away in Las Vegas ready for the WPPI Annual print judging in a month or so.)

That'll do, pig. That'll do.
Massive thank yous to a few people. Stefan, Laurene, you and the kids did a brilliant job and I owe you big time. Stefan you were an absolute champion. Thank you to Tara my assistant, who wrangled kids and lights and leaves and everything else that needed doing. Thank you Shane McCaffery for delivering a perfect print (or twenty); the Epson – Canson combo came through again. And thanks Eizo for making such good product, and ultimately for sponsoring the Illustrative category.